NUTRACEUTICAL PRODUCTS
We are listing here under range of products we manufacture and their end use as inputs into finished products .

PROTEIN POWDERS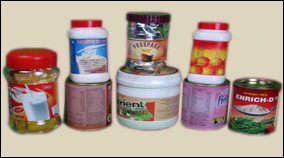 We manufacture protein powders prepared by processing & blending various flours such as defatted Soybean Flour, Skimmed Milk Powder, Maize protein concentrate, Whey protein concentrate, Cassein (Milk Protein) etc.
These blends can be prepared to be included in the following formulations :
PROTEIN FOOD SUPPLEMENTS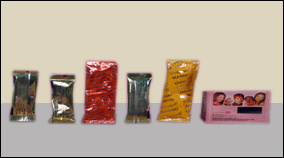 For people who are suffering from or recovering from illness such as typhoid, malaria, viral hepatitis, diarrhoea & dysentery, serious infections of the internal organs. Products as a nutritional supplement for the pregnant lady and lactating mother, growing children who may be protein deficient and hence not keep pace with the demand of growth, as well as products for geriatrics i.e. old people to meet their specific nutritional requirements. These products typically contain 20% to 25% protein together with vitamins and minerals. We have also developed products such as a sugar free protein product for diabetics.
BABY FOODS OR CEREAL MIXES
The protein blends prepared by our company can be used as a base for formulating cereal mixes by choosing blends of various cereals , pulses or beans such as wheat , rice , soybean with milk to make a very tasty and nutritious baby food.
HIGH PROTEIN FOOD SUPPLEMENTS
We can supply protein powder blends to match the requirements of products which are recommended as high protein supplements for athletes, sportsmen and body-builders. These are specialty products containing a very high protein % in the range of 55% to 80%. These products also contain other anabolic principles such as amino acids and energens.
SLIMMING DIETS
We can offer various bases which incorporate a protein blend offering around 40% proteins to meet the protein needs of the individuals who are participating in any anti- obesity program These products, apart from proteins also offer high content of fiber which exerts a satiety effect to satisfy hunger. These blends can be packed into convenient carry- sachets or conventional jar pack.
INSTANT PROTEIN SOUPS
We can offer protein base for formulating health soups containing dried vegetables and condiments.
PROTEIN BASE FOR COSMETIC PRODUCTS
There is a growing realization of importance of proteins in hair care and skin care products all over the world. We have developed specific protein blends in powder and liquid form for formulating protein skin scrub, protein hair gels and creams etc.
PROTEIN BASE FOR FORMULATING POULTRY AND ANIMAL NUTRITION PRODUCTS
We offer protein in liquid and powder form to be incorporated in poultry nutrition products. We can also suggest various formulations using our protein blends.
LOW CALORIE DIET FOODS
This is a food specialty which is gaining ground these days. We have developed several products such as low calorie fat free mayonnaise, sugar free protein beverage, sugar free cake mix etc.
LIQUID PROTEINS FOR HEALTH TONICS
Many of the fast moving tonics are formulated in a liquid protein base considering the heightened protein demand of the patients to whom such a product is prescribed. We offer ready to constitute protein hydrolysate derived from defatted soybean flour, milk protein with concentrations ranging from 10% to 20%.